Upcoming Events
Stay tuned for updates on craft fairs and popups this summer, especially during Pride Month!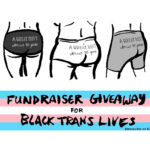 Fundraiser Giveaway for Black Trans Lives
Still going! Send me proof of a donation of $15 or more to of the listed organizations and I'll send you a patch or pair of undies with my "A GREAT BUTT KNOWS NO GENDER" design. All details are here. This giveaway will continue until supplies run out.
Commissions
I am open for commissions, and love trading work with other creators. You can see examples of my paintings on my recent paintings page, zines and patches in my online store, and recent projects of all kinds on my Instagram. Send me an email if you have an idea!
More places to find my work
Essentials in Northampton, MA now carries some of my patches, shirts, and the boardgame Pupper Supper. You can also find my comics and zines at Comics n' More in Easthampton, MA.