Holiday Arts Market at the Mill District – this local art market will be outdoors with indoor places to warm up and free hot drinks! In case of a blizzard or extreme cold, the market will be held the next day at the same time. – Saturday, November 12 from 12pm – 4 pm at The Mill District, 134 Montague Road, North Amherst, MA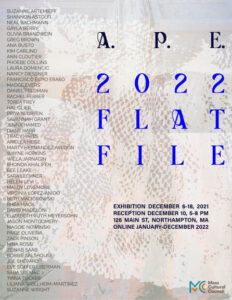 Flat File Program at A.P.E. Gallery – My piece Bloom/If/Open is part of this curated exhibition celebrating "the potential of flat media" with 50 works from 50 artists. Bloom/If/Open combines elements of collage, drawing, cartooning, and words. It is a reflection on my experiences working and (trying and failing) to make art during the early days of COVID-19 the pandemic.

See the exhibition online here through December 2022. The collection will also be on view in person at the Northampton Print and Book Fair on October 1, 2022.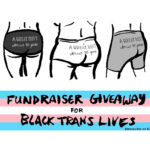 Fundraiser Giveaway for Black Trans Lives
Still going! Send me proof of a donation of $15 or more to of the listed organizations and I'll send you a patch or pair of undies with my "A GREAT BUTT KNOWS NO GENDER" design. All details are here. This giveaway will continue until supplies run out!
Commissions
I am open for commissions, and love trading work with other creators. You can see examples of my paintings on my recent paintings page, zines and patches in my online store, and recent projects of all kinds on my Instagram. Send me an email if you have an idea!
More places to find my work
Essentials in Northampton, MA now carries some of my patches, shirts, and the boardgame Pupper Supper. You can also find my comics and zines at Comics n' More in Easthampton, MA.