Upcoming Events
Unless otherwise specified, all events are free and open to the public.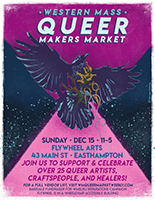 Western Mass Winter Queer Makers Market Sunday, December 15th from 11 am – 5 pm at Flywheel Arts Collective in Easthampton, MA – I will be selling zines and patches, plus underwear and other screenprinted & altered clothes.
Small Works Show December 4th – January 11th at Hope & Feathers in Amherst, MA – three of my paintings are in this group exhibition! Opening reception and Pie Party Thursday, December 5th, 5-8pm (with at least one vegan treat), closing reception and art raffle on Thursday, January 2nd, 5-8pm.

News
December 2019 store update: my newest zine, "Myopia" is now up, along with a lot of new color combinations in patches.
Zines now stocked at Comics 'n More – BANANIMALS, Vegan Camping Cookout, Pupper Supper, and Myopia (new! as of November 2019) are now available in person at Comics n' More in Easthampton, MA. You can also preview or purchase them from me online here.