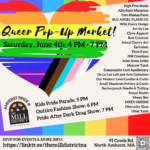 Events
On Saturday, June 4th, I'll be part of Amherst Pride's Queer Pop-up Market in the Mill District. I'll have paintings, zines, prints, stationary, and screenprinted patches and clothes. For many items this is the last/only place to buy them! This event is free, outdoors, and has accessible bathrooms and a water bottle filling station. More details and optional registration here.
The details: outdoors in the Mill District of North Amherst at 91 Cowls Road, Amherst, MA 01002. 4-7pm with a kids' pride parade, fashion show, and drag party afterwards.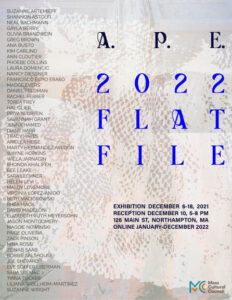 Flat File Program at A.P.E. Gallery – My piece Bloom/If/Open is part of this curated exhibition celebrating "the potential of flat media" with 50 works from 50 artists. Bloom/If/Open combines elements of collage, drawing, cartooning, and words. It is a reflection on my experiences working and (trying and failing) to make art during the early days of COVID-19 the pandemic.

See the exhibition online here through December 2022.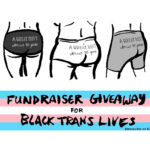 Fundraiser Giveaway for Black Trans Lives
Still going! Send me proof of a donation of $15 or more to of the listed organizations and I'll send you a patch or pair of undies with my "A GREAT BUTT KNOWS NO GENDER" design. All details are here. This giveaway will continue until supplies run out!
Commissions
I am open for commissions, and love trading work with other creators. You can see examples of my paintings on my recent paintings page, zines and patches in my online store, and recent projects of all kinds on my Instagram. Send me an email if you have an idea!
More places to find my work
Essentials in Northampton, MA now carries some of my patches, shirts, and the boardgame Pupper Supper. You can also find my comics and zines at Comics n' More in Easthampton, MA.