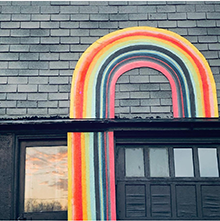 You + Me Gallery "Urgent Unity, Unprecedented Healing: Reflections from COVID" (June 4 – July 24) — I have a piece in this group exhibition, which is open on Saturdays from 11 am – 3 pm. There will be an opening reception on June 4th from 4:30 – 8 pm, but please note that the gallery has a 8-10 person capacity and the opening may be especially busy that day. Masks are required. — 115 Hope St., Greenfield, MA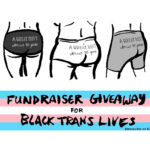 Fundraiser Giveaway for Black Trans Lives – send me proof of a donation of $15 or more to one of the organizations on this list and I'll send you a patch or pair of undies with my "A GREAT BUTT KNOWS NO GENDER" design. All details are on my Instagram post here. This giveaway is still active and will continue until supplies run out!
Commissions
I am open for commissions, and love trading work with other creators. You can see examples of my paintings on my recent paintings page, zines and patches in my online store, and recent projects of all kinds on my Instagram. Send me an email if you have an idea!
Events
You can often find me at the Pioneer Valley Zine Fest, Queer Makers Market, and other events in Western Massachusetts, but everything is on hold for the time being. In the mean time, you can visit my online store to see available zines and patches. Stay safe and keep masking up.
More places to find my work
Essentials in Northampton, MA now carries some of my patches, shirts, and the boardgame Pupper Supper. You can also find my comics and zines at Comics n' More in Easthampton, MA.