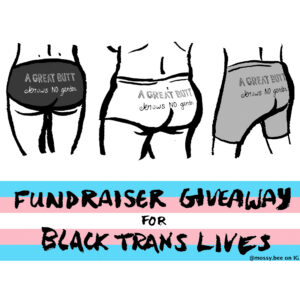 Send me proof of a donation of $15 or more to the organizations below and I'll mail you a patch or pair of undies with my "A GREAT BUTT KNOWS NO GENDER" design.

These are an original design I usually sell at zine fests/makers markets in person – this is the only way to get them online! Undies are only available to folx in the USA/Canada (to keep shipping costs down), though patches are available to everyone. This giveaway will continue until supplies run out!

If you'd like to send these as a gift, just let me know and I will add a note with a message from you and info on the donation it represents.


Jump to:
Organization list for donations
Instructions for fundraiser
Underwear colors and styles available

The organizations
Fundraiser Instructions
Donate $15+ to one of the orgs, or split donations between them (link in bio) Every bit counts, but please donate more if you can!
Email me a confirmation of your donation. Don't be awful and use the same donation to get multiple free things for your contribution. One patch or pair of undies per person!
Important! In your email, include the style and size of underwear you would like/whether you'd like a patch, your full address (including the name I should use for shipping), and whether there are colors you DO NOT want. See the section below for examples of available colors. I'll try to match people up with things they'll enjoy if I can, and if there are multiple options in your size and style, I'll let you know.
As I'm only one person doing inventory, packing, and shipping, please be patient with shipping times. I'll keep running this with the stock I have already sourced & screenprinted until they run out
Trans black folks who would like a free pair/a patch, just send me an email!
Underwear colors and styles available